Region
Griechenland, Kykladen ,
Magganari View Villa, Greece, Ios Island, Magganari Beach, 3 bedrooms, private pool, internet, 6-8 persons
Only a few minutes walk from the beach, Magganari View Villa is a newly built luxury 3 bedroom villa located in Manganari Bay. The villa commands unobstructed sea views of the bay and the island of Santorini. The property sleeps a maximum of 8 guests and is meticulously designed to offer refined relaxation and privacy.
The villa's interior and exterior blend perfectly to pamper its guests. Natural Greek stone and hand - carved marble handcrafts and prime materials for décor throughout the property with subtle tones of white and blue blend to bring it to life. In the ground level, you can find the living area equipped with modern conveniences such as Wi-Fi and a 40' satellite TV . Also in the same level is an open fireplace, dining area with a table decorated with hand-painted ceramic tiles, a fully-equipped kitchen with a hand-carved marble sink and a bathroom. You can find everything you need in the kitchen to prepare a meal or light snacks. Two of the master bedrooms are in the ground level of the villa: one of them ,en suite ,with direct access to a pergola-shaded patio.You just go up a few steps and on the upper level you find one master bedroom en suite with balcony. All the bedrooms have their own personal ammenities, airconditioning and bathroom with toilet , rain shower cabin and marble hand-carved wash basins.
Outside the villa is the infinity swimming pool surrounded by comfortable lounging and a pergola shaded barbeque dining area with a big marble table, sitting ten people.
There is daily cleaning service / pool maintenance and change of linen twice a week.
There's plenty to see and do within a short distance from the villa. Within walking distance are four taverns, where you can have perfect Greek breakfast or snacks. Snacks can be delivered at the villa, if you wish .Enjoy secluded golden sandy beaches and hidden coves .Water sports facilities are also available if you want to try boat excursions , windsurfing or water-skiing.You can drive to Chora, the main village, with its white-washed houses , its cobbled streets and lively nightlife or we can arrange for a taxi to bring you back if you want to go clubbing !
Notes of the Landlord
Because it is situated in one of the earthly paradises ....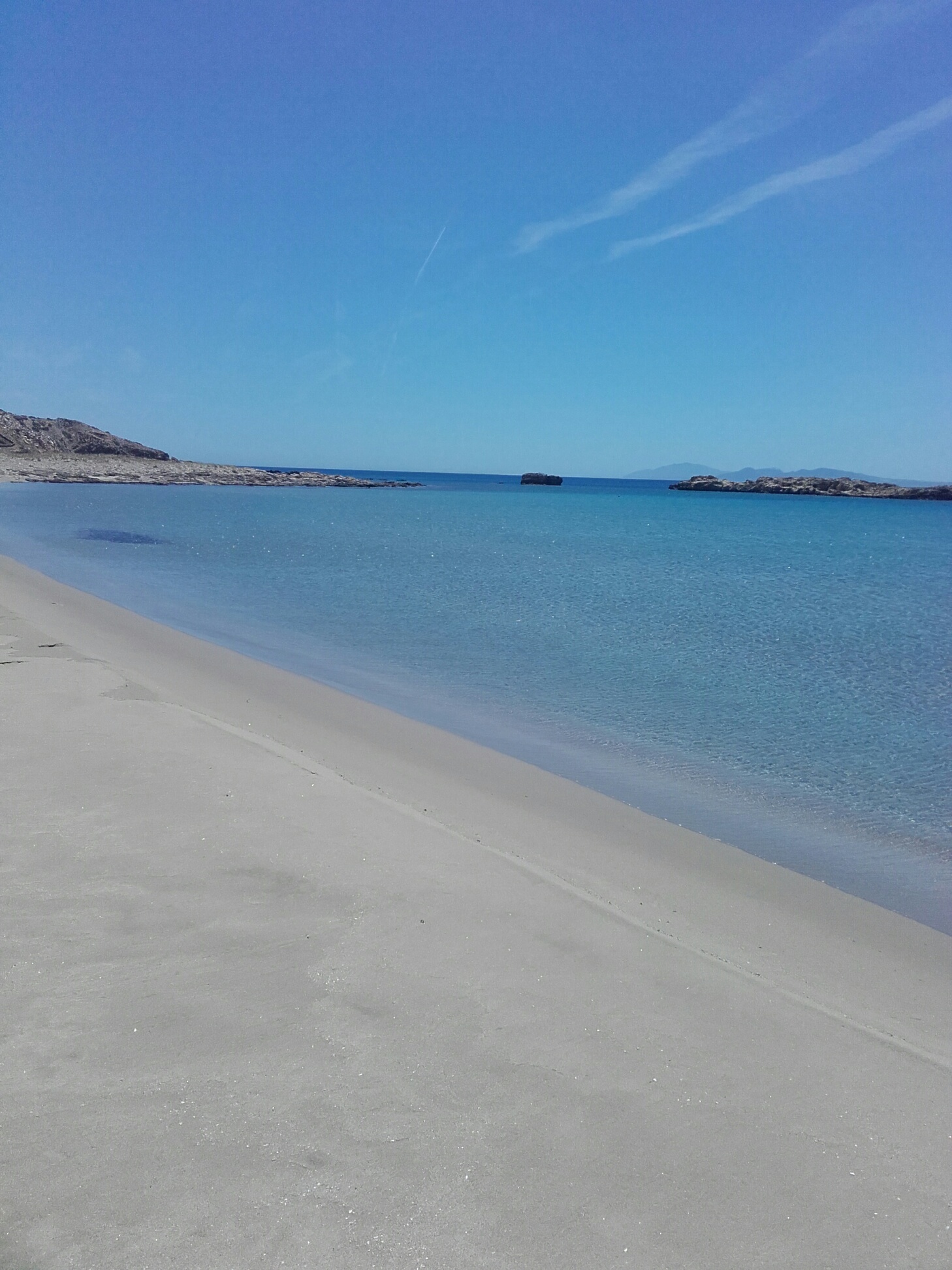 We fell in love with Magganari bay as soon as we set foot there . It is the perfect place for those who want to relax and forget about all worries.
Because it is never too crowded , there are no nightclubs and you can only hear the little goats bleeting !
Because we will take good care of you and make you feel welcome!
Images

Details
Nearby locations
Ios (17 km)
Santorini (30 km)
Paros (45 km)
Naxos (45 km)

Location
Next airport: Santorini (30 km)
Beach Distance: 100 metres
Supermarket Distance: 25 km
Restaurant Distance: 200 metres

---
Accomodation
180 m² living space
3 Bedrooms:
3 double bedroom with double bed
2 Daybed 1 pers

4 Bathrooms:
4 bathroom with shower and toilette

Other rooms:
1 terraces
1 loggia
2 balcony
1 separate kitchen
1 living room
1 washroom
1 dining room

special details
long-term rent possible, private or rental car necessary, pets on agreement, located on an island, child bed available / additional cost
---
Landscape
untouched nature, coastal, at the coast - max. 10 Km, secluded
View
nature view, landscape view, sea view, coastal view
Facilities outside
terraces, sunbeds with cushions, outdoor shower, seating, private pool, outside area, garden, open parking place, pergola, barbecue, seating with cushions, deckchairs with cushions, sunbeds
Facilities inside
washing machine, dishwasher, oven, national TV, heating, Sat TV, microwave, ironing board, iron, air conditioning, hairdryer, american coffee machine, baby high chair, internet-connection, toaster, baby bed, fireplace, internet access for laptops
Comments
Outstanding villa, wonderful stay.
Tatiana and Matt Anson, 27.01.2018
Left on Aug 30, 2016 for a stay in Aug 2016 We had a fantastic time at Magganari View on our honeymoon. The villa itself is beautifully presented and maintained, and the views from the terrace on to Magganari beach are incredible. All 3 of the bedrooms at the villa are well-proportioned and tastefully decorated. The beach is just a two minute walk away but there is enough distance between the villa and the seafront to make sure that noise from other visitors to the beach isn't an issue. Our hosts were extremely friendly and accommodating, too! We can't wait to head back next year! This review is the subjective opinion of a TripAdvisor member and not of TripAdvisor LLC.
---
ΕΞΑΙΡΕΤΙΚΟ
Dimitris Skarmoutsos, 27.01.2018
ΕΞΑΙΡΕΤΙΚΟ Left on Aug 30, 2016 for a stay in Aug 2016 Καταπληκτικο σπιτι χτισμενο με μερακι φοβερη εξυπηρετηση καταπληκτικη θεα ιδανικο μεροσ για ξεκουραση και χαλαρωση
---
beautiful
Sapfo Pollalis, 27.01.2018
beautiful Left on Mar 9, 2017 for a stay in Aug 2016 amazing place! definitely recomended, on the beautiful island of Ios, this lovely luxury villa made our stay unforgettable
---
Amazing choice!!!!!!!
Eleni Fosteri, 27.01.2018
Amazing choice!!!!!!! Left on Apr 17, 2017 for a stay in Apr 2017 We had a great time at Magganari view villa since the house was really convenient for us and our 6 month daughter, we would like to come back in summer to enjoy the beautiful sea and the pool! The hosts were really helpful and eager to help us with everything. certainly coming back!! Thank you....!
---
A dream come true
Tania Khalaf, 27.01.2018
tskhalaf Beirut, Lebanon A dream come true Left on Jul 3, 2017 for a stay in Jun 2017 Our stay at the Magganari Villa was a dream come true, the villa is perfectly designed with so much attention to detail to ensure the best comfort. The location is perfect if one is looking for a quiet getaway with little distraction. Our lovely host was available for any request or question we had, making us feel so welcome. A perfect experience!
---
A real paradise not to miss..
Irene Sarris, 27.01.2018
A real paradise not to miss.. Left on Jul 22, 2017 for a stay in Jun 2017 Magganari View Villa in Ios offered what my family was looking; unique setting in a pristine location for unforgettable moments.Thank you Magganari Villa for making 2017 summertime so special. I am looking forward to our coming back next summer and indulging ourselves to the Magganari Villa hospitality and beauty, again!
---
Great location, beautiful villa
Carine and Kai Jordahl, 27.01.2018
Jordahl Oslo Great location, beautiful villa Left on Jul 22, 2017 for a stay in Jul 2017 Great location, near the beatiful beach and bay Magganari. Away from all the party and noise of the Hora youth crowd. Remember to stack up, as it takes 40 minutes on a very scenic drive to the town. The house is really well designed. Modern, but in the traditional Cycladian style. High quality in every aspect, and beatifully decorated/designed. The pool was great, and the large shaded pergola a perfect place for us, not wanting to roast in the sun. The house is technically very well equiped, and both inside and outside is kept spotlessly clean. The hosts are really helpful and supportive, and helped us get the most out of our stay. We simply loved the villa and the quiet scenic beach village. Thank you for a great week Fotis and Olga. We will guaranteed be back, and look forward to seeing you again.
---
the great big blue in front of you to open all your senses.
Christa Vayanos, 27.01.2018
christavay Athens, Greece the great big blue in front of you to open all your senses. Left on Jul 29, 2017 for a stay in Jun 2017 Everything perfect, a group of people can stay there easily without bothering each other The pool is amazing and it is only a short walk to the sea. You can relax very well, everything you need is there and many pretty details make you smile. Nothing to disturb you. A place I would like to visit again.
---
Fantastic place, excellent accommodation, memorable experience
Savvas P., 27.01.2018
ΣΑΒΒΑΣ Π Athens, Greece Fantastic place, excellent accommodation, memorable experience Left on Aug 9, 2017 for a stay in Jul 2017 the villa is fantastic! The owners are very warm and helpful and the accommodation is top and of a professional level. We used all the facilities (pool, outside big breakfast table, lounges) offered by the house and we really enjoyed it. Clean, warm, with a kitchen and a number of products, drinks, beverages and wine offered upon arrival. overall a great place to stay. we ll be back soon.
---
Prices
| | | |
| --- | --- | --- |
| From | To | Price |
| 01.04.2023 | 31.05.2023 | 700 € Day |
| 01.06.2023 | 30.06.2023 | 850 € Day |
| 01.07.2023 | 31.07.2023 | 1000 € Day |
| 01.08.2023 | 31.08.2023 | 1200 € Day |
| 01.09.2023 | 30.09.2023 | 1000 € Day |
| 01.10.2023 | 30.11.2023 | 800 € Day |
| 01.01.2024 | 30.11.2024 | 800 € Day |
| 01.04.2024 | 31.05.2024 | 800 € Day |
| 01.06.2024 | 30.06.2024 | 930 € Day |
| 01.07.2024 | 31.07.2024 | 1100 € Day |
| 01.08.2024 | 31.08.2024 | 1300 € Day |
| 01.09.2024 | 30.09.2024 | 930 € Day |
Booking plan 2023
| | | | | | | | | | | | | | | | | | | | | | | | | | | | | | | | |
| --- | --- | --- | --- | --- | --- | --- | --- | --- | --- | --- | --- | --- | --- | --- | --- | --- | --- | --- | --- | --- | --- | --- | --- | --- | --- | --- | --- | --- | --- | --- | --- |
| Jan | | | | | | | | | | | | | | | | | | | | | | | | | | | | | | | |
| Feb | | | | | | | | | | | | | | | | | | | | | | | | | | | | | | | |
| Mar | | | | | | | | | | | | | | | | | | | | | | | | | | | | | | | |
| Apr | | | | | | | | | | | | | | | | | | | | | | | | | | | | | | | |
| May | | | | | | | | | | | | | | | | | | | | | | | | | | | | | | | |
| Jun | | | | | | | | | | | | | | | | | | | | | | | | | | | | | | | |
| Jul | | | | | | | | | | | | | | | | | | | | | | | | | | | | | | | |
| Aug | | | | | | | | | | | | | | | | | | | | | | | | | | | | | | | |
| Sep | | | | | | | | | | | | | | | | | | | | | | | | | | | | | | | |
| Oct | | | | | | | | | | | | | | | | | | | | | | | | | | | | | | | |
| Nov | | | | | | | | | | | | | | | | | | | | | | | | | | | | | | | |
| Dec | | | | | | | | | | | | | | | | | | | | | | | | | | | | | | | |
Free Occupied Optioned
Booking plan 2024
| | | | | | | | | | | | | | | | | | | | | | | | | | | | | | | | |
| --- | --- | --- | --- | --- | --- | --- | --- | --- | --- | --- | --- | --- | --- | --- | --- | --- | --- | --- | --- | --- | --- | --- | --- | --- | --- | --- | --- | --- | --- | --- | --- |
| Jan | | | | | | | | | | | | | | | | | | | | | | | | | | | | | | | |
| Feb | | | | | | | | | | | | | | | | | | | | | | | | | | | | | | | |
| Mar | | | | | | | | | | | | | | | | | | | | | | | | | | | | | | | |
| Apr | | | | | | | | | | | | | | | | | | | | | | | | | | | | | | | |
| May | | | | | | | | | | | | | | | | | | | | | | | | | | | | | | | |
| Jun | | | | | | | | | | | | | | | | | | | | | | | | | | | | | | | |
| Jul | | | | | | | | | | | | | | | | | | | | | | | | | | | | | | | |
| Aug | | | | | | | | | | | | | | | | | | | | | | | | | | | | | | | |
| Sep | | | | | | | | | | | | | | | | | | | | | | | | | | | | | | | |
| Oct | | | | | | | | | | | | | | | | | | | | | | | | | | | | | | | |
| Nov | | | | | | | | | | | | | | | | | | | | | | | | | | | | | | | |
| Dec | | | | | | | | | | | | | | | | | | | | | | | | | | | | | | | |
Free Occupied Optioned